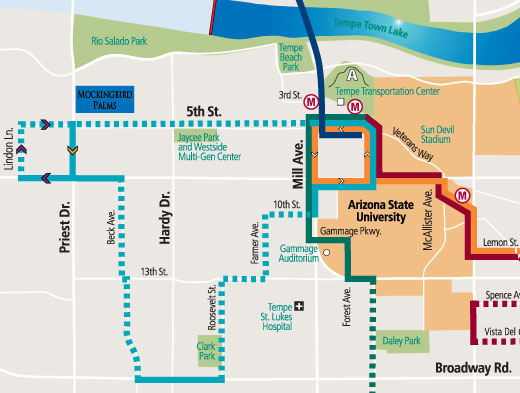 Aloha ASU!
Mockingbird Palms is the antidote for dormitory, with luxury for less. Luau with friends at our Tiki Village, with private pool, genuine thatched roof cabanas, barbecues and iPod docking music system. Enjoy one of eight peaceful covered courtyards, with barbecues. Learn golf with free clubs and balls on 500 feet of lush green grass.
Your spacious two-bedroom bungalow has luxury throughout. Solid block walls eliminate noise. Cool, ceramic tile flooring. Granite countertops, stainless appliances, Euro bathrooms, ceiling fans, and Wi-Fi are among the available amenities. Your home is steps from your covered parking and laundry centers. Our attentive staff eliminates hassles so you can concentrate on school and carefree island living.
Mockingbird Palms is five minutes to ASU and the famous Mill Ave. by bike and free Orbit bus. Nearby light rail, shopping and night-life, Tempe Beach Park, Tempe Center for the Arts, the Tempe Town Lake recreation area, the 202 freeway and the airport. The free Orbit bus (route in blue) and a grocery market are one block away. Mockingbird Palms' 32 apartments are at 1300 to 1342 West 4th St. between Priest Dr. and Beck Ave.
See Mockingbird Palms on Facebook